Radio That Started It All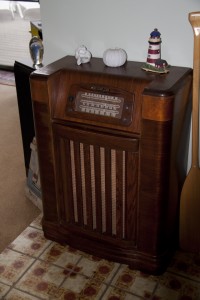 Many, many and more years ago the family Thanksgiving was at Aunt Mamie's house. I was 12 or so. In any case, was looking forward to FOOD which was always plenty on holidays. Once we ate and everyone settled down, I saw an AM radio sitting in the corner of the den. I turned it on to listen, but there was a band I was not familiar with — SW (Shortwave). I turned the band switch to SW and spun the dial What was this? Moscow? BBC? Cuba? All up and down the bands I was hearing stations from around the world just as if they were local. I was at that point hooked on shortwave and eventually ham radio. Not only did that experience become my main hobby, it also directed me down the road of communications and broadcasting. All because I was bored on Thanksgiving Day.
Then, just a few weeks ago I spied a 1947 Philco 1230 AM/FM/SW console on craigslist for sale. Just like the one I remembered a long time ago. So, I grabbed it in non-working condition. But, a couple replacement tubes and a few capacitors later…. it is now sitting in my house again spilling audio and memories of days long ago.
the attachments to this post: